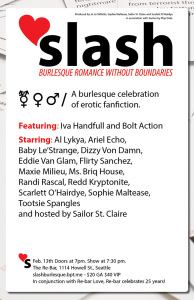 A BURLESQUE CELEBRATION OF EROTIC FANFICTION.
It's a Nerd Valentine's Party for everyone!
Costume Contests, Prizes, Fanfiction, Nerdlesque!
Celebrate the Re-Bar's 25th Anniversary Weekend.
Doors 7pm. Show 7:30.
Location: RE-BAR Seattle
PRESENTING SPONSOR: GAMES BY PLAYDATE.
SUPPORTING SPONSORS: SIN IN LINEN, NORTHWEST PRESS AND GAMMA RAY GAMES.
Noromo? Then GTFO because Slash is a burlesque show that's all about love in all of its forms! Whether you prefer homosexual hook-ups between genetically engineered supersoldiers and British sleuths, heterosexual pairings of spaceship captains and ex-KGB agents, friendslash between cartoon characters and historical figures, or some good ol' self-love slash between a young woman and her favorite book*, Slash: Burlesque Romance Without Boundaries has something for everyone to enjoy!
Inspired by Games by Play Date's indie card game Slash: Romance Without Boundaries, producers Jo Jo Stiletto, Sophie Maltease, Sailor St. Claire and Scarlett O'Hairdye have assembled a nerdlesque experience that ships nerdy burlesque acts with one another in the hope of creating the evening's One True Pair. An alternative to candy and flowers, this geeky Valentine's treat features the Pacific Northwest's top nerdlesque performers all staying in one hotel room with one bed, sprinkled with a little bit of sex pollen, and set in an alternate universe where they're all playing characters from pop culture!
Featuring Iva Handfull and Bolt Action.
Starring:
Al Lykya
Ariel Echo
Baby Le'Strange
Dizzy Von Damn
Eddie Van Glam
Flirty Sanchez
Maxie Milieu
Ms. Briq House
Randi Rascal
Redd Kryptonite
Scarlett O'Hairdye
Sophie Maltease
Tootsie Spangles
hosted by The Showgirl Scholar, Sailor St. Claire!
SPONSOR INFO: Games By Playdate will be providing oodles of prizes for our costume contests and other contests to be announced. They also will be selling a BRAND NEW expansion pack made for our event with cards suggested by the producers. PLUS, you can advance purchase a discounted copy of the game to pick up at our event (save $5 plus shipping costs!). RSVP to learn more and contests and giveaways. The producers are big fans of this game and you should be too. http://slashcg.com/
Ticket Prices:
$20 GA
$40 VIP (VIP WILL INCLUDE SPECIAL EXPANSION and other goodies)
ADD ON: You can pre-purchase the copy of Slash: A Fanficiton Party Game as "add on" to ticket purchase for $20 (instead of $25 retail value and no shipping).
* If you got excited about those pairings above, congratulations, pervert. This show is for you. No actual pairings alluded to in this are contained in this production. It's a surprise! (Except for the sex pollen. That's for real.)