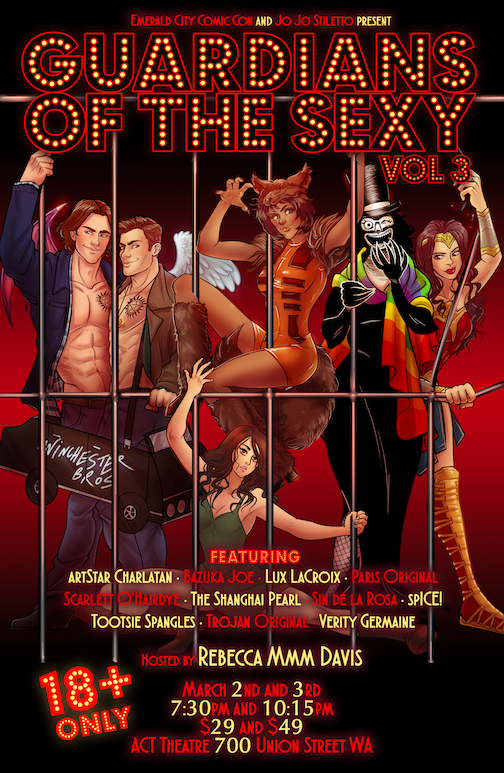 Emerald City Comic Con and Jo Jo Stiletto present
Guardians of the Sexy Volume 3: A Geeky Celebration of Burlesque.
Emerald City Comic Con once again joins forces with producer Jo Jo Stiletto, the Professor of Nerdlesque, to explore what happens when fandom and burlesque collide live on stage. Join us for one of four shows that Nerdhole.com called "freaking phenomenal."
Our intergalactic mission, should you choose to accept it, is defending the sexiness of all nerds regardless of gender, sexual orientation, body type, race, or ability. We are all the Guardians of the Sexy!
HOSTED BY:
Rebecca Mmm Davis
FEATURING:
artStar Charlatan
Bazuka Joe
Lux LaCroix
Paris Original
Scarlett O'Hairdye
The Shanghai Pearl
Sin de la Rosa
spICE!
Tootsie Spangles
Trojan Original
Verity Germaine
with assistance from
Maggie McMuffin
Hunny Bee
Carine Boekee
Sailor St. Claire
Emily Leong
March 2 and 3rd, two shows each night