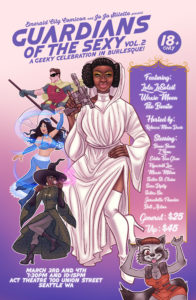 ECCC and Jo Jo Stiletto Present:
Guardians of Sexy Vol 2: A Geeky Celebration in Burlesque
Emerald City Comicon once again joins forces with producer Jo Jo Stiletto, the Professor of Nerdlesque, to explore what happens when fandom and burlesque collide live on stage. Join us for one of four shows that Nerdhole.com called "freaking phenomenal." Our intergalactic mission, should you choose to accept it, is defending the sexiness of all nerds regardless of gender, sexual orientation, body type, race, or ability. We are all the Guardians of the Sexy!
Hosted by Rebecca Mmm Davis
Featuring:
Lola LeSoleil
Waxie Moon
Tito Bonito
Jessabelle Thunder
Bolt Action
Boom Boom L'Roux
Eddie Van Glam
Hyacinth Lee
Maxie Milieu
Sailor St. Claire
Sara Dipity
Satira Sin
Friday March 3 at 7:30 PM and 10:15 PM
Saturday March 4 at 7:30 PM and 10:15 PM
Doors 30 min prior to showtime.
ACT Theatre's Bullitt Cabaret at 700 Union Street
18+ only
GA $25. Floor and balcony seating.
VIP $45. VIP includes seats closest to the stage plus VIP swag bag
*ECCC 2017 badge not required.
Shows will start promptly at 7:30 PM and 10:15 PM. Late seating at discretion of venue.
ACT Theatre's Bullitt Cabaret at 700 Union Street, is wheelchair accessible. For visually impaired patrons, make note that seating provisions can be made for closer seating if you contact us in advance. While our production is not translated for ASL, please contact us if you wish to bring an interpreter and we can make arrangements for appropriate seating. Contact us at matt@reedpop.com
Emerald City Comicon has a ZERO TOLERANCE POLICY for harassment of any kind. If a person engages in harassing behavior, ECCC Staff will take prompt action in any form they deem appropriate, including expulsion from ECCC with no refund. Our policy applies to EVERYONE at the convention. Exhibitors, Fans, Speakers, Guests, Professionals, Press, Staff and Security are all subject to our Anti-Harassment Policy.