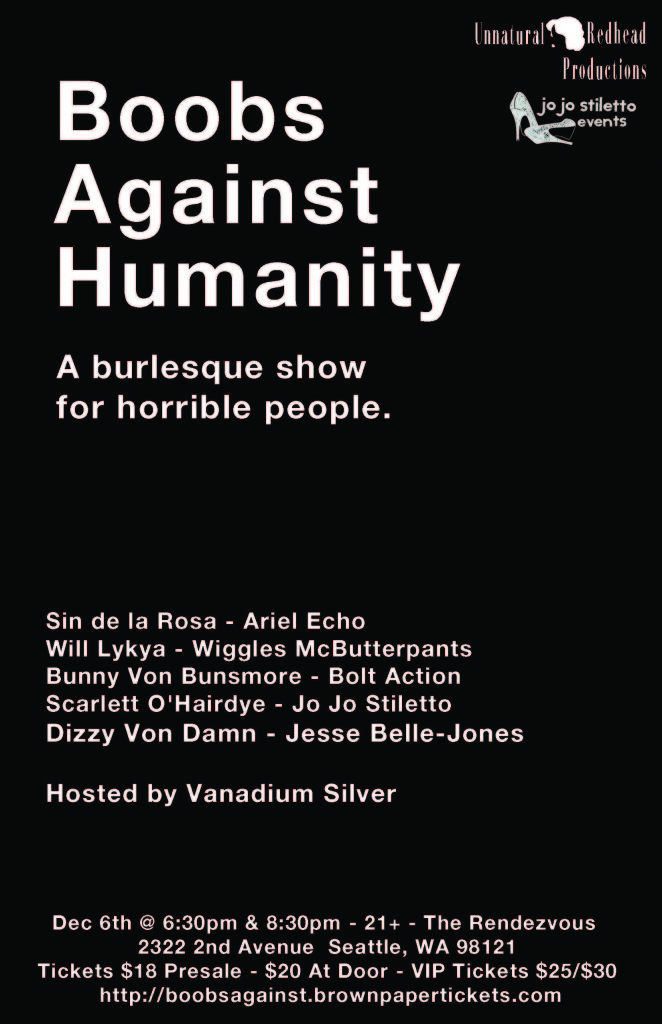 http://boobsagainst.bpt.me/
Weirder than inappropriate yodeling, more fun than dropping a chandelier on your enemies and riding the rope up, and sexier than flying sex snakes, it's "Boobs Against Humanity! A burlesque show for horrible people." Inspired by the shockingly popular home-grown party game Cards Against Humanity, producers Scarlett O'Hairdye and Jo Jo Stiletto set out to find a cast of the strangest, funniest, confusingest, and attractivist burlesque performers ever assembled in one place! (Or, you know, just the performers who woke up half-naked in a Denny's parking lot together.) After that auspicious beginning, the cast banded together to create acts based on ideas that sprung from one ill-conceived all-cast game of Cards Against Humanity. What we left out was amazing. What we kept in is better.
Show sponsored by Cards Against Humanity and Ugly Baby Shower Art!
Who is performing? So glad you asked!
Bolt Action, the Man with the Electric Moves!
Sin de la Rosa, ready to bloom!
Will Lykya in his first solo act!
Wiggles McButterpants, runner up in the Bride of Jake the Alligator Man!
Bunny Von Bunsmore, the only rabbit in Seattle Burlesque!
Ariel Echo, who strips with a stomp and a snarl!
Scarlett O'Hairdye, the Superhero of Sparkle!
Jo Jo Stiletto, Mayor of Seattle Burlesque!
Dizzy Von Damn, bringing practical surrealism for the everyday!
Jesse Belle-Jones, the Modern Sexual Intellectual!
Hosted by Vanadium Silver, MAN OF SCIENCE!
Raffle to benefit NARAL Pro-Choice Washington, with twisted and wonderful raffle prizes provided by all sponsors, including one full game of Cards Against Humanity and one Bigger Blacker Box. Get your tickets, bring your raffle cash, and grab a snack from the Rendezvous' revamped menu! Boobs Against Humanity promises to bring you at least three consecutive seconds of happiness, and some words words words.
Dec 6th – Doors at 6:15pm and 8:15pm – Curtain at 6:30pm and 8:30pm
The Rendezvous Jewelbox Theater
2322 2nd Avenue Seattle, WA 98121
Tickets $18 Presale ~ $20 At Door ~ VIP Tickets $25/$30
21+