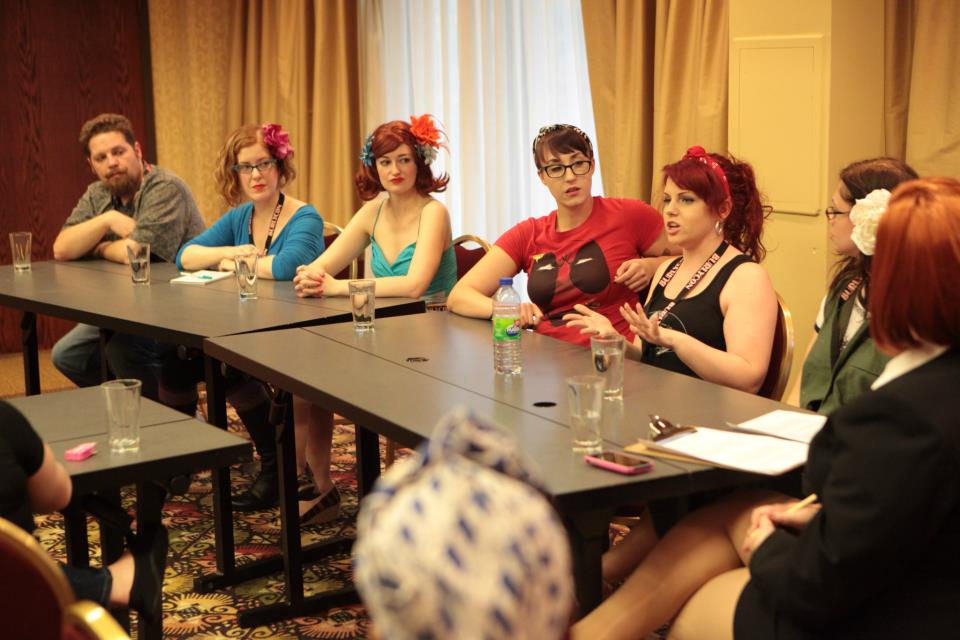 Remember back in 2012 when nerdlesque was the big buzzword at BurlyCon? At least that's how it felt on Jo Jo Island. Julie Atlas Muz invoked some mild nerd rage after her keynote speech when she expressed she didn't understand nerdlesque but everyone seemingly heard her say,  "I hate nerdlesque." Her mere mention made nerdlesque the talk of the Con, whether you agreed with her statements or not. Flash-forward to present tense: Our time is now, nerds of burlesque! 2012 was our splash and now is our boom.
Here is your special guide to BurlyCon 2014.
Gamers Birds of a Feather Caucus
That's right, a gamers caucus just for you hosted by Anja Keister of D20 Burlesque. I'll bring the card game Slash: Romance without Boundaries if you bring Cards Against Humanity.
Geek Booty
Check out vendor Booty and the Geek, Brooklyn-based business selling fabulous spandex booty shorts, costumes and onesies. There might be Star Trek and Sailor Moon Onesies. All the yes!
Get Social
And I mean on social media. Burlesque performers are generally not known as early adaptors to technology and media but let's still keep trying. Let's find all our new friends immediately on twitter, instagram and whatever new platform is popular in two weeks. We'll use hashtags and tweet important quotes from the mouths of hot babes. Let us bitch about Facebook's assbackwards policies to each other's actual faces.
Decoding Programming: Classes To Check Out
Social Media Marketing for Winners!
Yes, it's co-taught by a bona-fide professional nerd Erica McGillivray, Senior Community Manager at Moz, and me, Senior Producer at Wongdoody advertising. I swear these are real companies. Erica is social media wiz. I play one on television.
History Nerd Freak Out
Make sure you catch one of the panels from living legend Bic Carrol. I scanned a passage from a recent interview he gave and now I believe he might be a wizard.
The Explicit Body as Palimpsest
If this sentence in the class description from Dr. Lucky doesn't make you cream your panties, than I don't even know you anymore! "This presentation of self manipulates preexisting iconography, but it is through that decontextualization and reconfiguration that gender representations become self-authored." Sploosh.
Writing for Naked: Scripting Your Burlesque Show
It seems there is a big trend in nerdlesque to create fully scripted shows. Hey, did you know Jonny Porkpie has been doing really nerdy scripted burlesque since 2005?
Craft Foam, Hot Glue and You!
Scarlett O'Hairdye, the nearly naked nerd, will share her mad skillz honed from years of crafting cosplay and weapons to improve your burlesque costume arsenal of ideas.
The Half-and-Half on How to get Felt-Up by a Puppet
Muppet Flail! There is a whole presentation from author, historian, and performer Michelle Baldwin/Vivienne VaVoom exploring the history and modern interpretations of the "Half-and-Half" act, especially acts involving puppets.
Nerdlesque: Are These the Droids You're Looking For?
Will nerdlesque destroy us all or will it be our salvation? I'm going to take a long hard look at what we're doing and draw some conclusions.  Sexy conclusions. About cylons. FYI, Julie never actually said she hated nerdlesque. She said some words we should take to heart. Others have expressed hate, though. I'll share my responses.
Burlesque Library
It's the first year BurlyCon will have a quiet library space with many volumes of fine literature borrowed from the Academy of Burlesque. Please rub the sexy books NEAR not ON your genitals. Thank you.
GeekGirlCon
This female-focused nerd convention is the same weekend as BurlyCon and day passes are only $30. With panels like A Woman's Place is on the Bridge: Trek Women in Charge, How to Be a Nerd for a Living and Cosplaying While Fat (with yours truly) it's worth attending even for a half day. Plus, little girls complimenting each other on their adorable handmade costumes will make you cry giant stripper tears.
Special Events
Lust in Space Dance on Friday
By Grabthar's hammer, we will dance sexy.
The Fifth Element vs Worst Singers in the Galaxy Karaoke on Saturday
WTF? Will I have to decide between the batshit science fiction film with costumes by Jean Paul Gaultier and terrible stripper singing?!? I seriously have been waiting for this night my whole night. Solution: I will sing Call Me, Maybe while dressed as Leeloo Dallas Multipass.